Cony's house is Cony's home mentioned in LINE TOWN.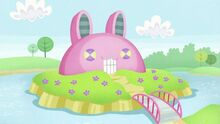 Appearance
This peach-coloured house with two "rabbit ears" is located on an island of the lake, which has a bridge with pink fences to connect. There are a lot of flowers and grass surrounding it, and there is a path at the middle. Its "mischievous grin" is actually made by two automatic doors, and its "eyes", which have purple and yellow shades, are the windows.
Extra Information
Cony's house is the only house which has automatic doors.
Ad blocker interference detected!
Wikia is a free-to-use site that makes money from advertising. We have a modified experience for viewers using ad blockers

Wikia is not accessible if you've made further modifications. Remove the custom ad blocker rule(s) and the page will load as expected.