Cony and Jessica: Girls Night Out
is a pack of LINE stickers which only include Cony & Jessica.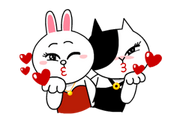 What're these stickers about
Cony and Jessica: Girls Night Out discloses Cony & Jessica's everyday-life as office-ladies, including romance, work and having fun. These stickers are suitable for girls as they indicate what they think. Also, they shows that even Cony & Jessica have different personalities, they are still are a pair of BFFs.
Description of the stickers
Girls love three things - romance, work, and partying till daybreak! This sticker set stars two very independent women who excel at all three. Let Cony and Jessica light up your chats with your girl friends!
Gallery
See Cony and Jessica: Girls Night Out/image gallery.
Trivia
Although these stickers are about Cony & Jessica, it has two Cony stickers included.
Ad blocker interference detected!
Wikia is a free-to-use site that makes money from advertising. We have a modified experience for viewers using ad blockers

Wikia is not accessible if you've made further modifications. Remove the custom ad blocker rule(s) and the page will load as expected.