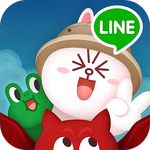 LINE Bubble 2
is the sequel of LINE Bubble. Unlike its prequel, it has a main story to start with.
About the game
Similar to LINE Bubble, this game also needs the players to clear bubbles in order to finish up a level each time. However, it become more difficult every time you're done with a level, meaning that you have to get pass more obstacles. Additionally, it's a lot like Candy Crush, which explains that it will hardly have an end.
Description of the game
LINE BUBBLE has released the Season 2 for its cool Bubble Popper Game! LINE BUBBLE 2 can be enjoyed by people of all ages, whenever and wherever!
Story
One day, Cony's true love Brown, the adventurer, has disappeared after he sets off for a new adventure. Trying to search for him, Cony and her friend Leonard suddenly enter into a mysterious world and befriend a red dragon Nicole. Nonetheless, they have to fight different bosses and encounter challenges on the way. Furthermore Cony has been missing Brown for a long time. Will they be able to find Brown and rescue him?
Characters
Extra Information
Although Brown is now Cony's husband, this game still mention him as her boyfriend.
Ad blocker interference detected!
Wikia is a free-to-use site that makes money from advertising. We have a modified experience for viewers using ad blockers

Wikia is not accessible if you've made further modifications. Remove the custom ad blocker rule(s) and the page will load as expected.