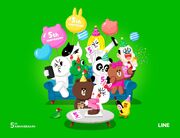 LINE Friends
is the character brand of LINE and one of the most popular characters in the recent world. There are eleven main characters in total, including seven males and four females.
Characters
Males
Females
History
The four original LINE Friends, Cony, Brown, Moon and James first appeared in two packs of free stickers, Brown, Cony, Moon and James after LINE launched in 2011, during the time after the 3/11 Earthquake. They became popular immediately because of their hilarious emotions and adorable looks.
Later, in 2013, three other characters: Boss, Jessica and Sally joined the team. Then in 2014, Leonard was introduced and appeared in LINE TOWN and soon Edward was introduced by publishing a pack of stickers named Edward: Special Edition and the team was finally seem to be formed.
However, in 2016, in order to celebrate LINE's 5th anniversary, LINE Corporation announced Brown's younger sister, Choco, as a new member of LINE Friends, which surprises the fans. Then her boyfriend Pangyo was introduced in LINE×Apps for Earth when it was promoting the message "Protect the Environment" of this pack of stickers.
Extra Information
LINE is Korean. However, LINE's Youtube channels (Except for Brown TV) and cartoons are Japanese, since it's more popular in Japan.
The non-protagonist LINE Friends only get a few cameo appearances in Stickers or in the game LINE Rangers.
Gallery
Ad blocker interference detected!
Wikia is a free-to-use site that makes money from advertising. We have a modified experience for viewers using ad blockers

Wikia is not accessible if you've made further modifications. Remove the custom ad blocker rule(s) and the page will load as expected.