LINE Keep is a later-added funcition of LINE, which can be used as keeping conversation in LINE.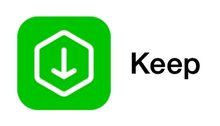 How to use
To keep a part/parts of the conservation, press the part for a period of time and choose the parts you want. Then you can save it.
To share a part of conversation to your friend, press the + button and choose the Keep button. Finally you can share it to your friend.
If you attempt to delete a file in Keep, you can follow this sequence: "Friend"-->"Personal Information"-->"Keep"-->the button at the right upper corner--> "Delete" -->chose the file you want to delete
Extra Information
It supports Supersonic & Bluetooth funcition by Friend Mode.
You can use QR Code to add a friend.
Andriod users can find conversation easily by sequence.
iPhone users can find stickers more easily by sliding them from left to right or up to down.
Ad blocker interference detected!
Wikia is a free-to-use site that makes money from advertising. We have a modified experience for viewers using ad blockers

Wikia is not accessible if you've made further modifications. Remove the custom ad blocker rule(s) and the page will load as expected.