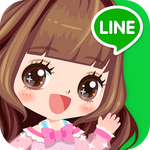 LINE Play
is a RPG(role-play game) *especially* for LINE users to build their own house. The mascot is a girl named Cherry.
About the game
In the beginning of LINE Play, you can create your own avatar: boy, girl or animal. After that you can start to build your dream house, including pets, accessories and other furniture.
To earn gems, you can invite friends,visit your friend's house by helping them to do some chores and do your quests(found on the top of your home screen)The activities"sit", "bath", "sleep" and "eat" are done in your house and in other players' houses. They will pop up every once in a while.
Description of the game
Discover your own special place on LINE PLAY. Create an avatar that looks just like you. Decorate and dress up your avatar with amazing items. Over 30 million new friends are waiting! Let's hang out and party on LINE PLAY!
Simple login process with SNS accounts and become friends with the hottest global celebrities and characters!
Ad blocker interference detected!
Wikia is a free-to-use site that makes money from advertising. We have a modified experience for viewers using ad blockers

Wikia is not accessible if you've made further modifications. Remove the custom ad blocker rule(s) and the page will load as expected.