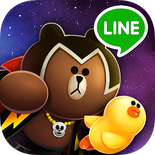 LINE Rangers
is a rope-playing adventure game created by LINE.
About the game
LINE Rangers is an adventure-fighting game that you have to defeat the alien enemies along the way to rescue the victim Sally. After saving her, you have to help the Rangers to save her home world, Yellow Planet by beating the extremely evil villain Paimon.
You can power up your Rangers to make them stronger. Also, you have to play with your friends on LINE. However, this game is rated PG in App Store and Play Store because it contains violent content.
Story
Once upon a time, Sally was a princess in a yellow planet. And Everyone in her home world adores her and gets amazed by her charm.
Suddenly, because of her cuteness, Sally gets noticed by a group of malacious aliens and the leader decides to catch her. So she has to escape from her planet and travels to Earth by a spacecraft.
Then, Sally accidentally landed in LINE Island, where she encounters with her friends. At first, the LINE Friends are doubtful when they see her, but she makes them accepted her by giving out a blow-kiss. They befriend Sally and she starts a new life.
Nevertheless, one day the aliens find Sally during their space search. They kidnapped her and lock her up in a dungeon, giving her mistreatment. When Sally's friends know this, Leonard becomes a professor and the rest of LINE Friends transform into Rangers and start their journey on rescuing her.
After Sally is saved, the LINE Friends' mission isn't over-in fact, Paimon, the boss of the aliens attempts to destroy Yellow Planet! Will LINE Friends able to save the planet?
Then what will they do next after they encounter a new world?
Characters
Main Hero Characters
Gallery