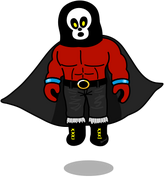 Paimon
is a vilian in
LINE RANGERS
and the boss among the aliens.
Appearance
Paimon has a skull-like face, and a muscular body, with abs on it.
Personality
As the boss of the aliens, he is extremely malicious and destructive, which he only thinks about himself, not even his hencemen. Besides, he hates beautiful and fine things in the world, that motivates him to destroy Sally's planet.
Gallery
See Paimon/image gallery.
Ad blocker interference detected!
Wikia is a free-to-use site that makes money from advertising. We have a modified experience for viewers using ad blockers

Wikia is not accessible if you've made further modifications. Remove the custom ad blocker rule(s) and the page will load as expected.